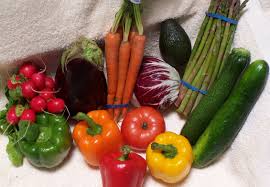 Even though today is my Tried and True Recipe Day, I want to start by saying a big "Thank You" to Mr. Tom Jackson who writes the On The Web column featured in the Monday edition of The Lawton Constitution. I was so surprised to see my blog mentioned in his column about technology information (talk about irony). I guess my son, Ben, had seen Mr. Jackson's request for local people's web sites and blogs, and submitted mine. Thanks for the belated Mother's Day surprise! And, a big welcome! to any readers who gave my blog a look after the article ran. I'm not extremely knowledgeable about my subjects, but write about subjects that I like. If anything, you might enjoy hearing about my trials and errors (see almost any post I've done on gardening). I welcome your advice and comments on anything that I chatter about.
Now, as my usual blog buddies know, Tuesday is the day each week when I share recipes, usually from family and friends, that I've actually made and enjoyed. I promised last week that I would include a great pickle mix recipe that uses zucchini...or almost anything you have left in your garden at the end of summer.
My Mom's friend, Bernadine, shared this recipe with her when I was growing up. Our families attended the same church, and Mom and Bernadine worked in the same office. When Mom first made this pickle recipe, Dad helped, and our whole kitchen smelled like hot vinegar...but the end result was so worth the wait and smell! The three of us kids devoured this sweet, tangy relish on sandwiches...and straight out of the jar! What a devious way to get your children to eat lots of vegetables.
Bernadine Culp's Pickle Garden Mix

1 gallon cucumbers or zucchini (or both)
6 medium onions
3 cloves of garlic
1 green bell pepper, sliced in narrow strips
1 red bell pepper,narrow strips
other vegetables may be used: cauliflower, carrots, etc.

Add 1 1/3 C coarse salt. Cover vegetables w/ ice cubes. Mix thoroughly, let stand 3 hours. Then drain on towels to remove moisture. Then, to 3 C white vinegar add:
5 C sugar
4 1/2 tsp turmeric
1 1/2 tsp celery seed
2 TBSP mustard seed
Boil together; then add vegetables. Heat until boiling, again; boil about 5 min.
Put in clean mason jars and seal.

I did something with leftover vegetables yesterday that I do quite often, and then decided to put these "do-over vegetable dishes" that I make down as recipes. We had Red Potatoes with Garlic Butter and Parsley this weekend as a side dish. I always make a little extra so that we can have potato salad. Here's how I make my potato salad out of cold, leftover potatoes.

My Potato Salad

Boil 3 eggs; cool, peel and chop
Chop:
1/2 C celery
1/2 C sweet pickles
1/2 C onions
Add all to cubed cold potatoes (at least 6 or 7)

Dressing:
2 C mayo or salad dressing
1 TBSP yellow mustard
1/2 tsp celery seed
pinch of ground pepper
1 TBSP sugar
enough pickle juice or water to thin it to a smooth dressing consistency.
Stir all together and chill for several hours.

My Red Potatoes with Garlic Butter and Parsley

Boil several Red Potatoes until fork tender. Drain off all water. While steaming hot, add 2 TBSP of Heart Smart margarine, 1 tsp garlic salt and 1 tsp parsley flakes.

Here's another vegetable dish that is a "Two-fer":
Corn on the Cob

Large kettle of boiling water. Add 1 tsp sugar. Drop clean ears of corn. When water returns to boiling, cover with tight lid and turn off the fire. Leave for 6 to 8 min. Put ears of corn on platter.
Fried Corn

In a large (preferably cast iron) skillet, put 2 large spoonfuls of butter. Cut cold, leftover corn from the cobs. Drop in hot skillet w/ melted butter; stir fry it quickly until hot. Add salt and pepper just before serving.
Don't you just love those time-saving dishes that you can get two meals from?
I'm going to finish today with my Grandma Winland's no-bake cookies. It's too hot to bake in the summer, right, and we have better things to do! But, most of us still like to have some sweets in the cupboard. My grandma was a quiet, gentle spirit who loved her family, and collecting antiques. For several years she and my grandpa ran Winland's Store. I miss her sweet smile and sense of humor.
Grandma's(Jessie Winland) Unbaked Oatmeal Cookies

2 C sugar
1/4 lb. oleo (margarine)
1/2 C milk
1/2 C cocoa
pinch of salt
1 tsp vanilla
3 C quick oats
2 TBSP peanut butter

Put oleo, sugar, milk, cocoa and salt in a pan. Boil for 2 min. Take from fire, add vanilla, peanut butter and quick oats. Stir well. Drop from a tablespoon onto waxed paper to cool.
*****************************************************************************************
Don't Forget Lawton's Armed Forces Day Celebration this Saturday at Elmer Thomas Park! Lee Greenwood will be there!
**********************************************************************************************
I will be participating in BlessedwithGrace's TemptMyTummyTuesday recipe swap today!